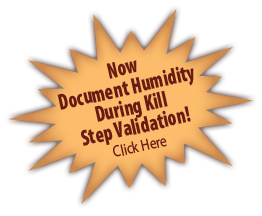 The New SCORPION® Software (SV8) enables bakers to easily comply with the FSMA Kill Step Validation requirements – collecting product core temperature data, calculating lethality and generating the Process Lethality Report.
Time/Temperature Data Table & Graph automatically generated
Enter Microbial Heat Tolerance Coefficients (TREF, D, z)
Lethality calculated and displayed as Cumulative Log Reductions
Print the Process Lethality Report as your record of FSMA Compliance
New Features make Kill Step Validation faster and more accurate!
The SV8 Food Safety Module now calculates the Cumulative Log Reduction for all valid product core temperatures, making it faster and more accurate to find the worst case sample used in the process lethality report.

Sample Process Lethality Report
Have questions? We can help!
Contact us at 610.678.5890 or info@readingthermal.com