RBS Introduces Its Virtual Snack Seminar Series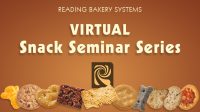 RBS is excited to announce our Virtual Snack Seminar Series.
We all know that trade shows have been cancelled, but our innovation hasn't. While we can't be together as an industry, we can get together 'virtually' and RBS has organized an online series to keep you current on industry trends and educate you on the latest snack solutions.
The RBS Snack Seminar Series will feature webinars highlighting innovations in processing technologies and snack products. These virtual events allow you to see the latest from our team in the comfort and safety of your home or office.
Please see the list below of upcoming webinars in May. We will update the list as new events are scheduled. If you can't make the scheduled time, a link will be available to access a recording of the webinar.
We look forward to connecting with you…virtually!
Upcoming Webinars:
Innovations in Healthy Sheeted Snack Production
With the ever-changing consumer demand for alternative snack food choices, snack manufacturers are constantly challenged to develop new products to meet this growing demand….Read More
Presenter: Ken Zvoncheck, Director of Process Technology
Date / Time: Completed
New Emithermic Oven Zone for Better Baking of Biscuits and Cookies
Reading Bakery Systems has recently developed the Emithermic Oven for baking cookies and biscuits. This technology offers balanced and energy-efficient baking using radiant and convective heat and a humidity controlled product zone…Read More
Presenter: Joe Pocevicius, European Sales Manager
Date / Time: Completed
Continuous Mixing for Snack Foods: Why Continuous Mixing may be a better choice for your operation

Consumers love snack foods. They can't seem to get enough cookies, crackers, sweet baked goods, and convenience foods. This continues to place pressure on today's food manufacturers in the areas of capacity, quality, variety, cost and a reliable labor force…Read More
Presenter: Jim Warren, Vice President of Exact Mixing
Date / Time: June 9, 2020 at 11 AM EST
---
Reading Thermal Develops A Better Way to Measure Humidity in Baking Processes
Reading Thermal has developed a new Digital Humidity Sensor that uses proprietary Anti-Saturation TechnologyTM to increase accuracy in measuring humidity in ovens, proofers, dryers and cooling tunnels .
Commercial bakers work to maintain the delicate balance of moisture in the environment needed to achieve consistent finished product quality. The new Digital Humidity Sensor allows greater control to:
Improve product consistency and quality control
Increase product throughput
Prevent product cracking and blistering
Increase product shelf life
Support Food Safety
The new generation Digital Humidity Sensor produces data that is unaffected by combustion gases as it measures Dew Point Temperatures, Absolute Humidity and Relative Humidity. The improved design now precisely records measurements in very high dew point environments such as the steam injection used in bread ovens. The new capabilities maintain tight tolerances regardless of the oven platform. Additionally, the new humidity sensor now provides users the benefit of no preheating, increased dwell time and two product probe inputs.
---
Reading Thermal Now Offers an Online Training Program for the SCORPION® 2 Data Logging Measurement System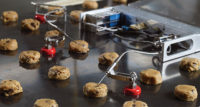 Reading Thermal has released an Online Training Program for users of the SCORPION® 2 Data Logging Measurement System.  The Online Training Program provides unlimited access to a library of eleven training modules, each complete with an audio/video component, diagrams, and visual reference handouts.  Valuable supporting documents are provided to help users through specific profiling challenges.
"Commercial bakers love what the SCORPION® can do for them, but they had a need for 24/7 access to training materials and instructions. They needed an efficient way to train new users and an easy way for trained users to access material in the field to refresh their SCORPION® skills," says Richard Starke, Director of Reading Thermal.
The training modules cover all aspects of the SCORPION® 2 hardware and software components, integrating real process examples throughout.
This program helps you:
Easily train new employees
Conduct training on your schedule, and refer back to training information as often as necessary
Focus on specific areas of interest
Cross-train less technical employees to collect and analyze data
The SCORPION® 2 Profiling System is a robust tool that measures and analyzes the four key baking parameters: Temperature, Airflow, Heat Flux and Humidity providing bakers with the information they need to identify and resolve baking, drying and cooling problems.
---
Former Reading Bakery Systems President Named to Circle of Honor
SNAC International kicked off SNAXPO, held March 31 – April 1 in Orlando, by announcing the recipient of the organization's Circle of Honor Award, the highest recognition SNAC International bestows.
Terry Groff, former owner and president of Robesonia, Pa.-based Reading Bakery Systems (RBS), received the award for his outstanding contributions to the association and the snack food industry.
Mr. Groff joined Reading Pretzel Machinery in 1974 when his father purchased the company and asked him to leave his post as a banking officer in New York to assist in running the business. "When your dad calls," Mr. Groff recalled, "you go." Following his father's failing health, Mr. Groff became the company president at age 33.
"Over the years, we have evolved into a systems supplier, where people come to us with their products not just interested in details of the machinery but also the process," said Joe Zaleski, RBS president.
Mr. Groff's passion for the industry and dedication to his company, customers and their products solidified RBS' place in the industry.  He accepted the recognition with his wife, children and grandchildren present, along with more than 30 RBS employees.
You can view the original article here.
---
Reading Bakery Systems Selects Meng Yeong Chong as Sales Manager for China

As part of its continuing expansion into South East Asia and China, Reading Bakery Systems (RBS) announced that Mr. Meng Yeong Chong has joined the company as sales manager for China. Meng will report to David Kuipers, Senior Vice President of Sales and Marketing for RBS.
Before joining RBS, Meng worked in sales engineering and sales with Andritz, a large Austrian company with businesses covering hydropower equipment, pulp and paper processing, metal processing and separation technologies. He also worked for Heinkel, a privately held company based in Germany looking to expand their footprint in Asia.
"RBS has been making significant strides in reaching customers in China," said Kuipers. "We are excited to have Meng on our team to help give us leadership as we make our systems relevant to this market. Our factory in Tianjin, China also gives us flexibility in manufacturing and support."
A native of Kuala Lumpur, Malaysia, Meng lives with his wife and children in Singapore. He is a graduate of the University of Science Malaysia with a degree in Chemical Engineering.
---
Reading Bakery Systems Names Luis Montoya as Sales Manager for the Latin American Region

Reading Bakery Systems (RBS), one of the world's leading manufacturers of baking and process systems, has announced the appointment of Luis Montoya as Sales Manager for the Latin American Region, effective immediately. Reporting to Vice President of Sales, Shawn Moye, Montoya will be responsible for direct sales efforts and project support with existing and future RBS customers in Mexico, Central and South America.
Montoya joins RBS with over 12 years of sales, management and engineering experience. Prior to joining RBS, he worked for Rockwell Automation, PointVerde Columbia, and Melexa, S.A.
"Luis's extensive sales and engineering background, particularly with regard to Latin American customers, is an excellent fit for this position," said Moye. "We are excited to have him join our sales team."
Montoya received his undergraduate degree in Electronic Engineering from Pontificia Universidad Javeriana and a Master in Business Administration from Universidad Eafit.
---
New Reading Thermal Pan+Dough Probe delivers accurate, repeatable measurements
Reading Thermal has introduced the Pan+Dough Probe, a fixed position, dough interface/core temperature measuring device that provides accurate, repeatable data that are not possible with hand-placed thermocouple probes.
"Bread bakers rely heavily on accurate measurements of the core temperature of the bread as it moves through the oven to ensure consistent quality," said Richard Starke, director, Reading Thermal. "The Pan+Dough Probe has a stationary vertical probe that is always at a fixed penetration depth, as opposed to probes inserted into the loaf that can change position as the dough rises. The Pan+Dough Probe yields measurements that are always at the same reference point from one batch to the next."
The Pan+Dough Probe is placed under the bread or bun dough and simultaneously captures the pan/dough interface temperature and the dough core temperature.  The Pan+Dough Probe connects to a Temperature Interface device that can accommodate five Pan+Dough Probes. The probe's copper spade is pressed against the pan by the weight of the dough, and measures the critical pan/dough interface temperature.  The vertical, stainless steel, dough core temperature probe penetrates the dough at a fixed distance from the pan. These readings are used to produce the Bake Cycle S Curve indicating critical temperature points for yeast kill, gelatinization and arrival time as they relate to the percentage of travel through the baking chamber.  SCORPION® Software Version 8 (SV8) automatically calculates the three S Curve data points.  Environment temperature is also measurable using sensors connected to the Temperature Interface device.
---
Reading Thermal introduces SCORPION® 2 LITE Temperature Profiling Package
Solution offers a low cost-of-entry to Temperature Profiling and is expandable to Airflow, Energy Transfer and Humidity Profiling
Reading Thermal introduced the SCORPION® 2 LITE Temperature Profiling Package to provide customers with a convenient, low cost solution for measuring and monitoring temperature levels in commercial ovens, cooling tunnels, freezers and dryers.
Developed primarily for producers in the baked snack food industry, the system has demonstrated potential for application in a wide range of manufacturing environments that utilize a continuous conveyor process, such as meat processing, nut processing, electronics, aluminum can production, and more, said Richard Starke, Director, Reading Thermal.
The SCORPION® 2 LITE Temperature Profiling Package consists of a SCORPION® 2 LITE Data Logger and a Temperature Interface that provides the ability to measure 10 Temperatures at user defined positions in a thermal process.  This helps ensure consistency and high quality while minimizing the amount of substandard product or waste.
Particularly in commercial baking, having the ability to monitor temperatures from the beginning through the end of a continuous conveyor food processing system is crucial to ensuring the overall quality of a production line, said Starke. For example, baking bread in a continuous conveyor process requires the product to reach certain temperatures at specific times in the bake cycle. If those correlations aren't reached and monitored to ensure repeatability, product quality will suffer.
At $8,000 the SCORPION® 2 LITE Temperature Profiling Package offers an affordable, cost-effective solution to meeting the challenge of temperature monitoring, said Starke. In addition, customers who opt for this package will have the ability to upgrade to more advanced measurement capabilities such as airflow, energy transfer and humidity – while maintaining full compatibility with all existing SCORPION® equipment.
In addition to the Temperature Interface, the SCORPION® 2 LITE Data Logger is compatible with a new line of Magnetic Temperature Sensor Arrays which provide users with a low-cost technique to achieve fixed sensor repeatability across the width of a conveyor.  Furthermore, the SCORPION® 2 LITE Data Logger functions exactly like its full-featured SCORPION® 2 relative.  All connections, charging, user interface and software are identical to both systems, so that upgrading is an easy transition.  "If the customer decides to invest in additional monitoring capabilities, all the previous equipment will still be compatible for their upgraded system," said Starke. "They will not lose any compatibility. There is no additional software that the customer needs to buy. It's a very easy progression to achieving the capability to collect data for all oven parameters."