Reading Thermal Now Offers an Online Training Program for the SCORPION® 2 Data Logging Measurement System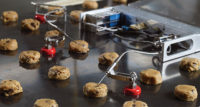 Reading Thermal has released an Online Training Program for users of the SCORPION® 2 Data Logging Measurement System.  The Online Training Program provides unlimited access to a library of eleven training modules, each complete with an audio/video component, diagrams, and visual reference handouts.  Valuable supporting documents are provided to help users through specific profiling challenges.
"Commercial bakers love what the SCORPION® can do for them, but they had a need for 24/7 access to training materials and instructions. They needed an efficient way to train new users and an easy way for trained users to access material in the field to refresh their SCORPION® skills," says Richard Starke, Director of Reading Thermal.
The training modules cover all aspects of the SCORPION® 2 hardware and software components, integrating real process examples throughout.
This program helps you:
Easily train new employees
Conduct training on your schedule, and refer back to training information as often as necessary
Focus on specific areas of interest
Cross-train less technical employees to collect and analyze data
The SCORPION® 2 Profiling System is a robust tool that measures and analyzes the four key baking parameters: Temperature, Airflow, Heat Flux and Humidity providing bakers with the information they need to identify and resolve baking, drying and cooling problems.
To learn more about the SCORPION® 2 Data Logging Measurement System and the Online Training Program call +01 610-678-5890 Ext. 2 or visit www.readingthermal.com.
Reading Thermal is a part of Reading Bakery Systems, the world's leading manufacturer of innovative baking and process systems for the global snack industry. RBS provides a variety of processing solutions capable of producing a wide range of snack products, such as cookies, crackers, crisps, pretzels and bread snack products. Reading Bakery Systems brands include Thomas L. Green, Reading Pretzel, Exact Mixing and Reading Thermal. RBS is a Markel Food Group Company. For more information concerning equipment and services provided by Reading Thermal or RBS, visit www.readingbakery.com.
---
Reading Bakery Systems Names Luis Montoya as Sales Manager for the Latin American Region

Reading Bakery Systems (RBS), one of the world's leading manufacturers of baking and process systems, has announced the appointment of Luis Montoya as Sales Manager for the Latin American Region, effective immediately. Reporting to Vice President of Sales, Shawn Moye, Montoya will be responsible for direct sales efforts and project support with existing and future RBS customers in Mexico, Central and South America.
Montoya joins RBS with over 12 years of sales, management and engineering experience. Prior to joining RBS, he worked for Rockwell Automation, PointVerde Columbia, and Melexa, S.A.
"Luis's extensive sales and engineering background, particularly with regard to Latin American customers, is an excellent fit for this position," said Moye. "We are excited to have him join our sales team."
Montoya received his undergraduate degree in Electronic Engineering from Pontificia Universidad Javeriana and a Master in Business Administration from Universidad Eafit.
---
New Reading Thermal Pan+Dough Probe delivers accurate, repeatable measurements
Reading Thermal has introduced the Pan+Dough Probe, a fixed position, dough interface/core temperature measuring device that provides accurate, repeatable data that are not possible with hand-placed thermocouple probes.
"Bread bakers rely heavily on accurate measurements of the core temperature of the bread as it moves through the oven to ensure consistent quality," said Richard Starke, director, Reading Thermal. "The Pan+Dough Probe has a stationary vertical probe that is always at a fixed penetration depth, as opposed to probes inserted into the loaf that can change position as the dough rises. The Pan+Dough Probe yields measurements that are always at the same reference point from one batch to the next."
The Pan+Dough Probe is placed under the bread or bun dough and simultaneously captures the pan/dough interface temperature and the dough core temperature.  The Pan+Dough Probe connects to a Temperature Interface device that can accommodate five Pan+Dough Probes. The probe's copper spade is pressed against the pan by the weight of the dough, and measures the critical pan/dough interface temperature.  The vertical, stainless steel, dough core temperature probe penetrates the dough at a fixed distance from the pan. These readings are used to produce the Bake Cycle S Curve indicating critical temperature points for yeast kill, gelatinization and arrival time as they relate to the percentage of travel through the baking chamber.  SCORPION® Software Version 8 (SV8) automatically calculates the three S Curve data points.  Environment temperature is also measurable using sensors connected to the Temperature Interface device.
---
Reading Thermal introduces SCORPION® 2 LITE Temperature Profiling Package
Solution offers a low cost-of-entry to Temperature Profiling and is expandable to Airflow, Energy Transfer and Humidity Profiling
Reading Thermal introduced the SCORPION® 2 LITE Temperature Profiling Package to provide customers with a convenient, low cost solution for measuring and monitoring temperature levels in commercial ovens, cooling tunnels, freezers and dryers.
Developed primarily for producers in the baked snack food industry, the system has demonstrated potential for application in a wide range of manufacturing environments that utilize a continuous conveyor process, such as meat processing, nut processing, electronics, aluminum can production, and more, said Richard Starke, Director, Reading Thermal.
The SCORPION® 2 LITE Temperature Profiling Package consists of a SCORPION® 2 LITE Data Logger and a Temperature Interface that provides the ability to measure 10 Temperatures at user defined positions in a thermal process.  This helps ensure consistency and high quality while minimizing the amount of substandard product or waste.
Particularly in commercial baking, having the ability to monitor temperatures from the beginning through the end of a continuous conveyor food processing system is crucial to ensuring the overall quality of a production line, said Starke. For example, baking bread in a continuous conveyor process requires the product to reach certain temperatures at specific times in the bake cycle. If those correlations aren't reached and monitored to ensure repeatability, product quality will suffer.
At $8,000 the SCORPION® 2 LITE Temperature Profiling Package offers an affordable, cost-effective solution to meeting the challenge of temperature monitoring, said Starke. In addition, customers who opt for this package will have the ability to upgrade to more advanced measurement capabilities such as airflow, energy transfer and humidity – while maintaining full compatibility with all existing SCORPION® equipment.
In addition to the Temperature Interface, the SCORPION® 2 LITE Data Logger is compatible with a new line of Magnetic Temperature Sensor Arrays which provide users with a low-cost technique to achieve fixed sensor repeatability across the width of a conveyor.  Furthermore, the SCORPION® 2 LITE Data Logger functions exactly like its full-featured SCORPION® 2 relative.  All connections, charging, user interface and software are identical to both systems, so that upgrading is an easy transition.  "If the customer decides to invest in additional monitoring capabilities, all the previous equipment will still be compatible for their upgraded system," said Starke. "They will not lose any compatibility. There is no additional software that the customer needs to buy. It's a very easy progression to achieving the capability to collect data for all oven parameters."