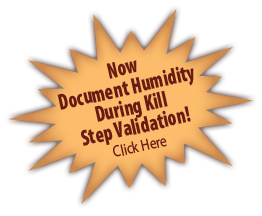 Validate Your Kill Step
Easily comply with FSMA regulations using the SCORPION® 2 System
Controlling internal food temperature is key to achieving food safety. Today's food processors must also document how they are meeting food safety requirements with data.  The SCORPION® 2 Data Logging Measurement System makes both jobs easier.
The SCORPION® 2 LITE Data Logger with Temperature Interface and Product Probes simplifies the measurement of environment and internal product core temperatures.  After gathering the data, the SCORPION® Software (SV8) Food Safety Module makes it easy to calculate lethality and then generates a comprehensive report displaying cumulative log reduction.  By combining this ease of measurement with robust data capture, the SCORPION® 2 System makes it simple to optimize your process while meeting food safety standards.
Baking Process Kill Step Calculator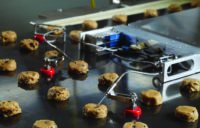 The SCORPION® Software (SV8) Food Safety Module enables SCORPION® users / bakers to easily comply with the new Kill Step Validation requirements mandated by the Food Safety Modernization Act (FSMA).  The SCORPION® Data Logger is used to collect product core temperature data and SV8 calculates lethality and generates a comprehensive report.
Sample Process Lethality Report
Enter Microbial Heat Tolerance Coefficients (TREF, D, z)
Time / Temperature Data Table & Graph Automatically Generated
Lethality Calculated and Displayed as Cumulative Log Reductions
Graphs Display: F, Cumulative F and Cumulative Log Reduction
Comprehensive Report Generated Directly from SV8
Here's what you need to get started!
Food Safety System: $8000.00
SCORPION® 2 LITE Data Logger
Product Probe Interface
5 Bare Wire Thermocouples
SCORPION® 2 Smart Charger
SCORPION® Software Version 8 (SV8)
40mm Thermal Barrier (THB40)
SCORPION® 2 User Guide
Top Loading Case
Contact us today for a quote on this system!