Easily comply with food safety regulations!
The food safety system simplifies the measurement of environment and product core temperatures. The profiling equipment gathers temperature data, and then the software easily calculates lethality and generates a report displaying cumulative log reduction.
Time / Temperature Data Table & Graph Automatically Generated
Enter Microbial Heat Tolerance Coefficients (TREF, D, z)
Lethality Calculated and Displayed as Cumulative Log Reductions
Graphs Display: F, Cumulative F and Cumulative Log Reduction
Comprehensive Report Generated Directly from SV8 Software
What could you win? The system includes: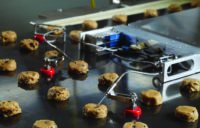 SCORPION® 2 LITE Data Logger
Product Probe Interface
10 Bare Wire Thermocouples
SCORPION® 2 Smart Charger
SCORPION® 2 Software Version 8 (SV8)
40mm Thermal Barrier (THB40)
SCORPION® 2 User Guide
Top Loading Case
For a chance to win, submit your business card at iba 2018! The winner will be selected on the last day of the show September 20th, 2018 at 11:00 AM.
For more information, call us at 610-678-5890 or email info@readingthermal.com.